Type 3 – Mercedes-Benz Sprinter LE 86-148
The Leader Mercedes-Benz LE 86-148 Type 3 is narrow body to accommodate the narrow track axle but will still meet BLS and ALS requirements. It has all the space you need for equipment storage, plus you get many of the Leader designed features.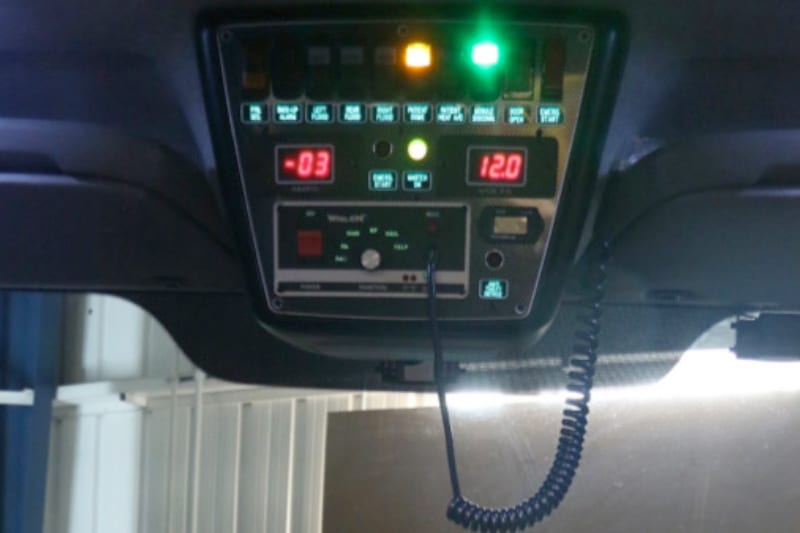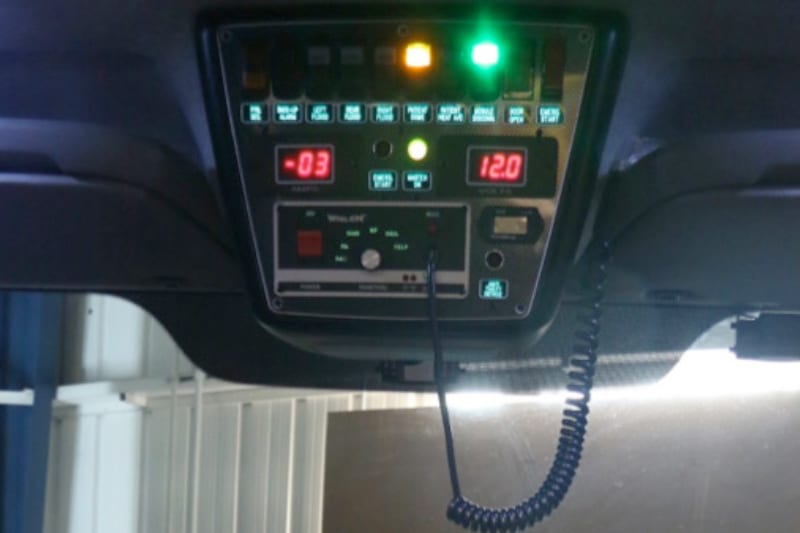 Overhead Switch Console
As part of Leader's signature design, the cab headliner has the switches overhead. This makes it easier for the driver to remain focused on the road without having to look down to locate the appropriate switch. It frees up more space in the dash area for radios, laptops and MDT (mobile data terminals). We also added separate dual LED lights over both driver and passenger with white courtesy and red map light.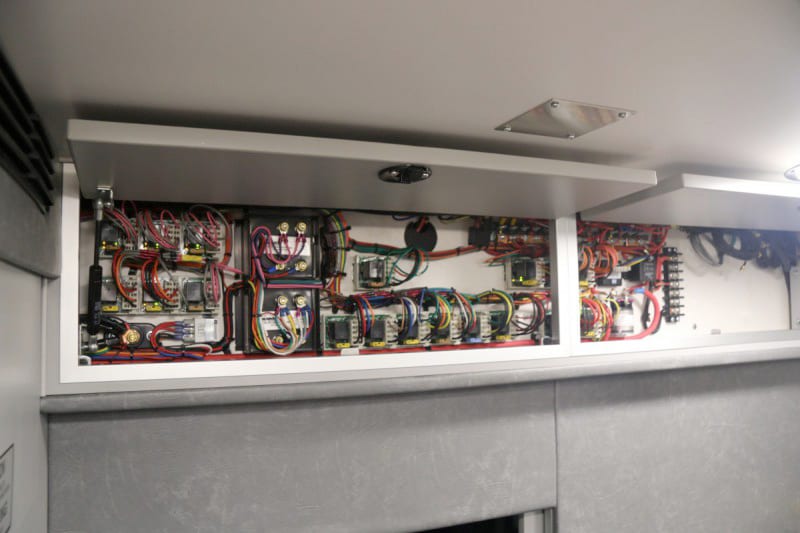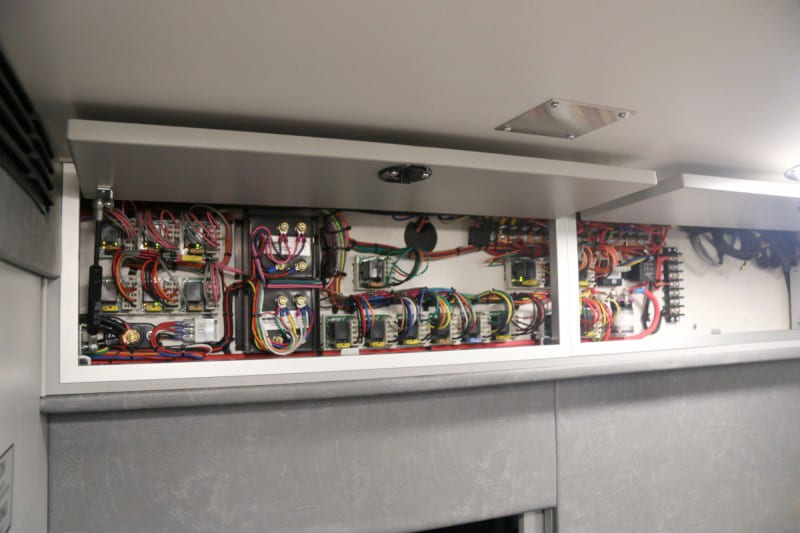 Electrical System
The power distribution system has the best of both worlds. We combined individual printed circuit boards on a rail system with standard automotive relay and circuit breaker technology. You get the high reliability of printed circuit boards with the infield serviceability of readily available automotive replacement parts. We designed these circuit boards to meet stringent military specifications. They have reverse polarity protection, come with built-in diagnostic LED's, and auto reset circuit breakers. The individual boards quickly snap in and out for replacement requiring no special tools. One of the most maintenance free systems on the market.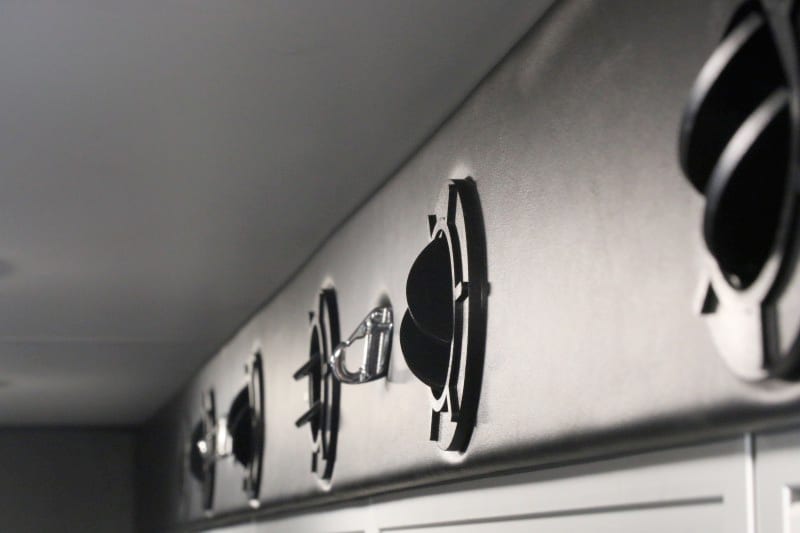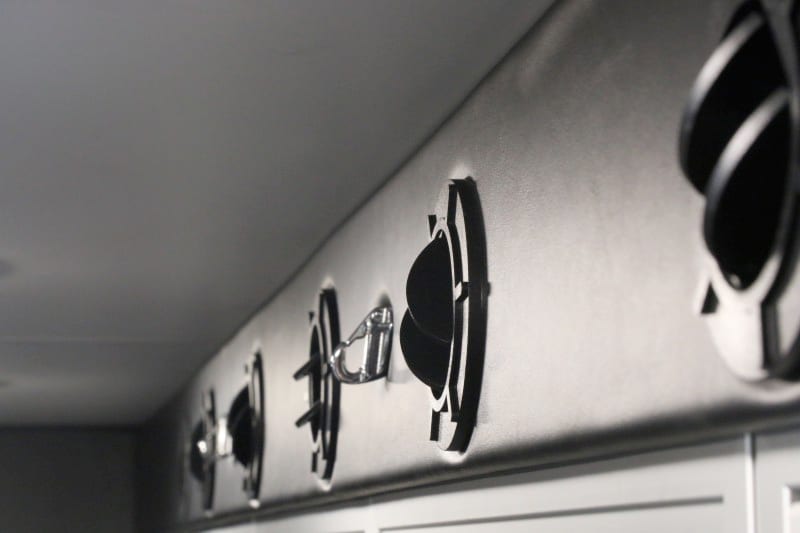 Ducted Heat/AC
Leader engineered the shape of the duct to maximize even air flow and to provide you with the remarkably fast and efficient exchange of air in the patient compartment. We put the vents on the upper streetside the full length of the vehicle near the ceiling in order to provide conditioned air directly to the patient and medics. With five adjustable vents you will be able to put the air where you need it to warm up or cool down immediately.
All aluminum module
All warning and scene lights, Whelen SurfaceMax LED
LED turn, brake, reverse and FMVSS marker lights
LED strip lighting in exterior compartments
100,000 CP Handheld Spotlight, black rubber, halogen, hard wired
Two additional batteries and Leader exclusive Emergency Start system
Power activated door locks installed on patient compartment access doors. Activated via (OEM) door lock switches in cab, w/ (2) patient compartment door lock switches – (mounted on interior bezels)
M1 Streetside, front compartment for O2 storage
M2 Streetside, mid-compartment, additional storage
M3 Streetside, rear compartment, storage for backboards etc
M4 Curbside, lower compartment for additional batteries
M6 Curbside, front compartment for jump kit storage
Spare tire is stored under body
Stainless steel DOT approved wheel inserts shall be installed on all four outside wheels of the chassis
Leader's signature cab overhead switch panel helps keep the driver focused on the road. The overhead also includes a fully programmable siren with diagnostic LED's, dual driver and passenger LED courtesy and map lights
All switches have indicators with LED backlighting which is virtually maintenance free
Voltage meter, overhead console mounted, 0 – 18 volts
Amperage meter, overhead console mounted, with remote induction sensor
Center Console w/ (2) cup holders and map storage under lid w/ (2) 12 volt USB ports
Map box with (3) polycarbonate dividers, attaches to rear of center console
Patient compartment dome lighting and Heat/AC are controllable from both patient area and cab
(8) flush mount LED dome lights in patient compartment
Action area control center with dual oxygen outlets, built in suction system, 110V & 12V Outlets and dual USB charging port
Emergency digital time manager clock with multiple modes
Action wall countertop to be made of solid surfacing material for long term durability
CPR seat with IMMI Per4Max Restraint with storage below
Squad bench has two (2) IMMI Per4Max restraints with individual backrests. Quick release cargo net at head-end of bench
Full length cabinet over squad bench with two hinged polycarbonate doors, a locking drug and additional oxygen outlet
Ducted Heat/AC provides an efficient even flow of air throughout the vehicle with (5) directional air vents
Equipped with a restocking timer located at curbside wall that powers the streetside domes
Positive latches on all cabinet sliders to keep medical supplies stored safely
Leader designed rear step bumper for extra safe traction and long term durability
Privacy tint on all patient compartment widows
High conspicuity band on interior of entrance doors for greater night visibility when doors are open
Curbside vertical window between squad bench seats
M4 Upper curbside, rear compartment for additional storage, option to include inside access
Auto-eject Shore Power, 120V, 15 amp, behind driver door, to female plug in inverter compartment
Low Frequency Siren – Whelen "Howler", includes (2) speakers, & (1) drivers side "Linemaster" foot switch
Power inverter and battery charger – Xantrex, Freedom, HW-1000W, w/ auto transfer, (connected to electrical outlets and shoreline)
Electric switched oxygen with digital read out, replaces manual system, includes manual by-pass
Restocking frame on upper overhead cabinets
Air outlet, action area, Puritan Bennett, Ohio style quick release, plumbed to remote bottle
Small Bottle Oxygen Holders
| Chassis | Model | WB | Engine | Alternator | Batteries | Fuel |
| --- | --- | --- | --- | --- | --- | --- |
| Mercedes-Benz | 3500 | 144 | 3.0 V6 | 220 | 4 | Diesel |
Ask the Leader Ambulance Experts
Have questions about our products or services? We'd love to hear from you.