Features
The Type 2 – CE Ford Transit Medium Roof includes features that provide a safe and ergonomic environment.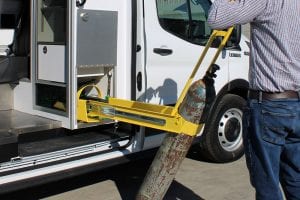 O2 Load Assist System (OLAS)
Leader developed an oxygen bottle loading system to easily load the main oxygen tank (M Size) without having to manually lift the tank into the bulkhead horizontal cabinet.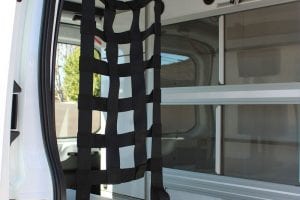 Max-Opening cabinets
All cabinets have been redesigned to give 100% opening access. The revolutionary design allows all sliding cabinet doors to open completely providing more efficient storage of medical supplies.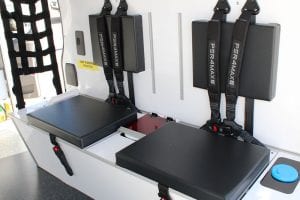 Cockpit style seating
Leader has redesigned the ambulance layout to allow EMT/Paramedic to provide highly effective patient care while remaining safely buckled into a four-point harness seat belt system.
Starting with the Per4Max seat belt system that allows extended movement combined with a redesigned interior to maximize workflow while caring for the patient.
A full complement Whelen SurfaceMax LED warning and scene lights
Front and Rear Warning Light Pods
Overhead Cab Console, all switches have LED indicators and LED backlighting which is virtually maintenance free
Map box centered between the two seats
Anti-glare shade separating cab from patient area
Cab is sealed off from patient area to reduce short-term exposure
Voltage meter in overhead cab console, 0 – 18 volts"
Low Voltage Warning Device, indicator lamp if voltage drops below 11.8 volts
Center Console for radios with attached open storage extension
LED patient compartment dome lighting and Heat/AC are controllable from both patient area and cab
64" overhead grab rail
(1) assist handle at side entrance door and (2) upper assist handles at rear doors
Cargo net at the head end of the squad bench that can be relocated to ceiling for soft storage above the squad bench
Oxygen system, Ohio style quick release, (2) outlets in action wall panel
Aspirator, action wall area, flush mount panel and gauge, dual containers in cabinet below Action Area which allows for more counter surface availability.
(6) LED dome lighting in patient compartment
Action area control center with built in suction system, 110V & 12V Outlets and dual USB charging port
High back attendant seat with IMMI Per4Max seat belt
Slide out airway drawer accessible from attendant seat
Squad bench has two (2) IMMI Per4Max seat belts
Squad bench provides recessed storage for sharps container, waste and sanitation wipes
Dry-erase board located on streetside rear accessible from squad bench
Ducted Heat/AC provides an efficient even flow of air throughout the vehicle with (5) directional air vents
Restocking timer activates streetside domes
Portable O2 bottle storage, (1) next to main oxygen tank
Slanted back board compartment offers durability with space saving ergonomic design
Rear access horizontal folding stretcher storage with easy slide feature that minimizes unsafe lifting
Transverse horizontal storage for main oxygen tank provides a safe storage design for easy and ergonomic loading with the O2 Load Assist System (OLAS)
Power inverter and battery charger – Xantrex, Freedom, HW-1000W, w/ auto transfer, (connected to electrical outlets and shoreline)
Additional Rear Interior Loading Lights for greater visibility when loading the cot
OEM Rear View Camera System
Privacy tint windows
Optional accessories mounts for glove storage, helmet storage, coat hooks, soft packs, IV holders and BP cuff/stethoscope
Auto-eject shoreline
| Chassis | Model | WB | Engine | Alternator | Batteries | Fuel |
| --- | --- | --- | --- | --- | --- | --- |
| Ford Transit MR RWD | 250 | 148 | 3.5L EcoBoost | 250 | 2 | Gas |
Ask the Leader Ambulance Experts
Have questions about our products or services? We'd love to hear from you.