Mobile Clinic
The Leader Mobile Clinic was developed to provide on-site medical care to non-emergency patients. Inside the vehicle, you will find all of the amenities that would be in a general medical exam room. The exterior of the vehicle comes equipped with a motorized awning to protect you and your patient from the elements.
Chassis
3.7 L V6 Gas Engine
GVWR 9,500 lbs.
Wheelbase: 147.6 inches
Ambulance Prep Package
25 Gal Fuel Tank
250 Amp Alternator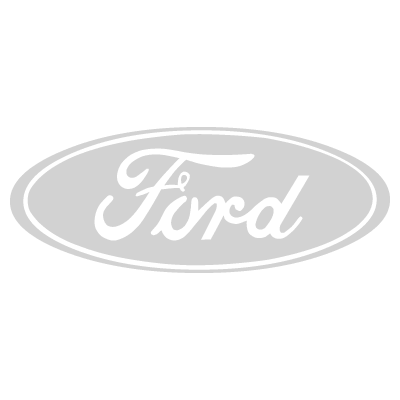 Ford Transit T-350 High Roof
Chassis
3.0 L V6 Turbo Diesel
GVWR 9,000 lbs
Wheelbase: 144 inches
Ambulance Prep Package
24 Gal Fuel Tank
220 Amp Alternator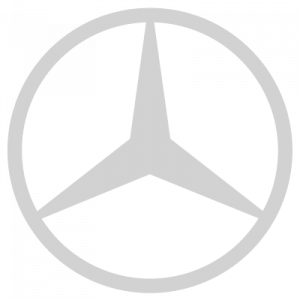 Mercedes Benz Sprinter 2500 [4×2 – 4×4]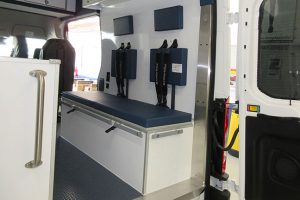 Ergonomic Style Seating
Curbside interior with ergonomic seating with Per4Max® Controlled Decelerator four-point restraint system. Additional overhead cabinet storage and optional railing for adjustable IV arm and stirrups.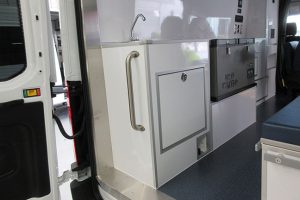 Sink & Dual Zone Refrigerator
Streetside interior with RV type sink with 12V foot operated pump and grey water tank under vehicle. Dual zone temp controlled fridge and additional overhead cabinet storage.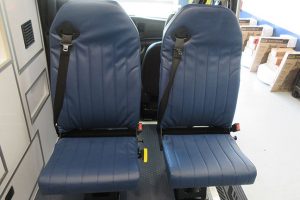 Dual Flip Up Swivel Seats
Dual flip-up 180° swivel seats with three-point harness belt system at side entry door for additional seating. Black hideaway curtain provided for privacy between cab and rear treatment area.
Motorized awning on the curbside
Shoreline: 15 amp
Dark tinted side and rear entry door windows
Solar panels: (2) mounted on the roof
Streetside interior: upper storage cabinets, ducted Heat/AC, washing station, dual zone twin compartment fridge/freezer, control center for switches, solar panel display, 110V outlets, 12V and USB outlets, slide out tray, (2) additional storage cabinets.
Forward: dual flip-up swivel seats, overhead storage cabinet, heat/AC condenser, black privacy curtain on a sliding track to close off the rear to the cab
Curbside interior: upper storage cabinets, exam bench with (2) seating positions with IMMI Per4Max restraints and additional storage under squad bench, motorized awning switch and digital restocking timer
Flooring: Lonseal sapphire UV antimicrobial
Laminate: gloss white, cabinets, walls, ceiling
Upholstery: blue academy
Cab Center Console: with storage cabinet, digital voltmeter, switch panel and dual USB outlets
Inverter/Charger: 1800 watt
Electrical: electro-mechanical system for ease of diagnosis and repair
Emergency Start System: (3) batteries
Dome lights: (6) LED accent lighting under upper cabinets
Chassis: Mercedes-Benz 2500 Van
Chassis: Ford eTransit 3500 High Roof Van
Running boards
Dual cabinet on curbside ILOS exam bench
Color changes for laminate and flooring
Oxygen system
Scene lights on curbside exterior
Glove holders
Sharps/Bio-Waste disposal containers
IV arm, lithotomy stirrups
| Chassis | Model | WB | Engine | Alternator | Batteries | Fuel |
| --- | --- | --- | --- | --- | --- | --- |
| Ford Transit HR RWD | 350 | 148 | 3.5L EcoBoost | 250 | 2 | Gal |
| Sprinter Van 4×2 | 2500 | 144 | 3.0L | 220 | 2 | Diesel |
| Sprinter Van 4×4 | 2500 | 144 | 3.0L | 220 | 2 | Diesel |
Ask the Leader Ambulance Experts
Have questions about our products or services? We'd love to hear from you.