Features
The SE Transit High Roof is designed to maximize medic maneuverability at the same time optimizing storage space.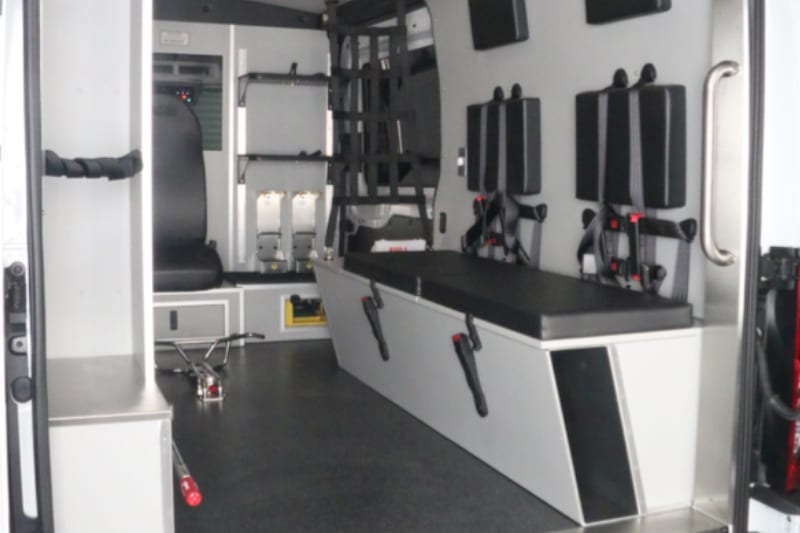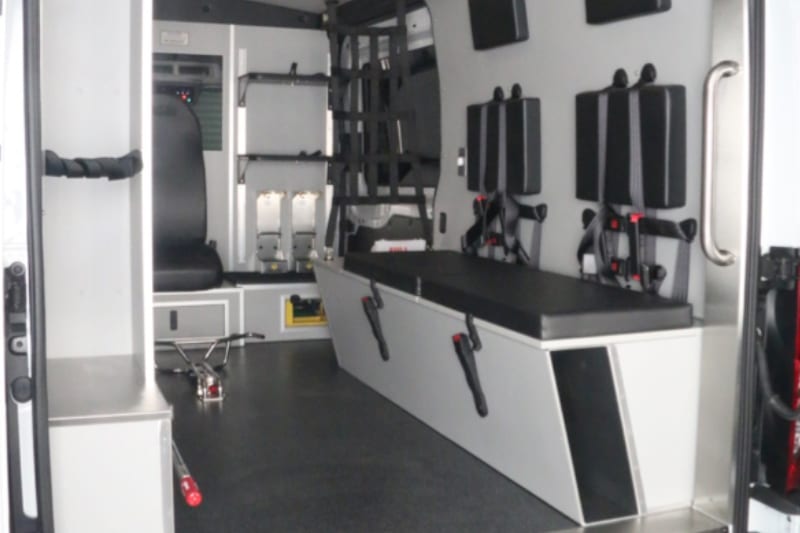 Slanted Backboard Storage
The Leader backboard storage is designed for quick rear door access. We slanted the storage compartment to provide an ergonomically correct squad bench that is the not too high and provides needed foot space.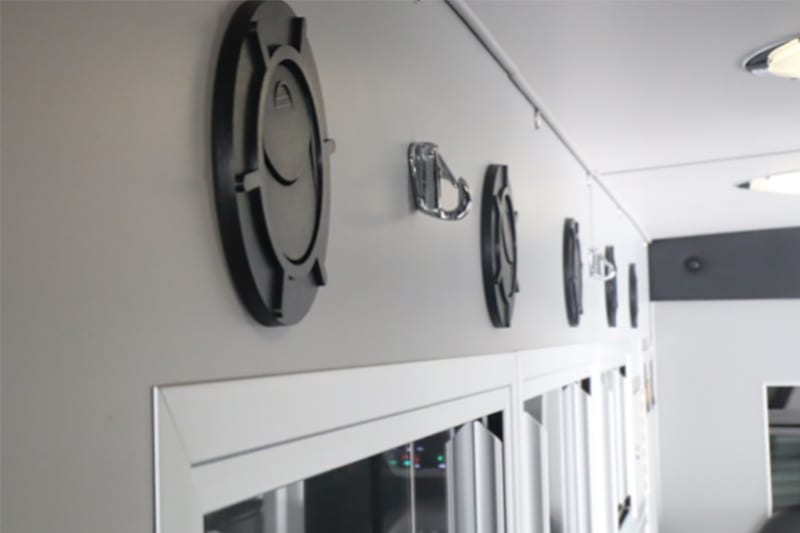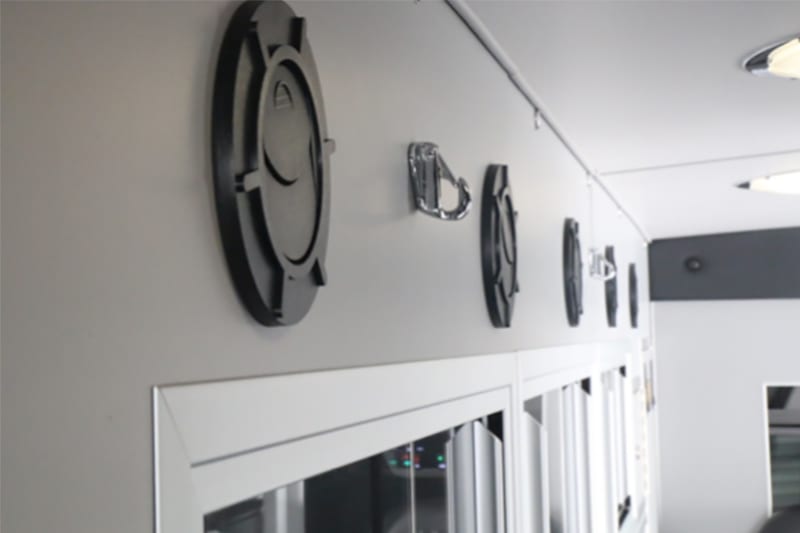 Ducted Heat/AC
Leader engineered the shape of the duct to maximize even air flow and to provide you with the fastest most efficient exchange of air in the patient compartment. We put the vents on the upper streetside the full length of the vehicle near the ceiling in order to provide conditioned air directly to the patient and medics. With five adjustable vents you will be able to put the air where you need it to warm up or cool down immediately.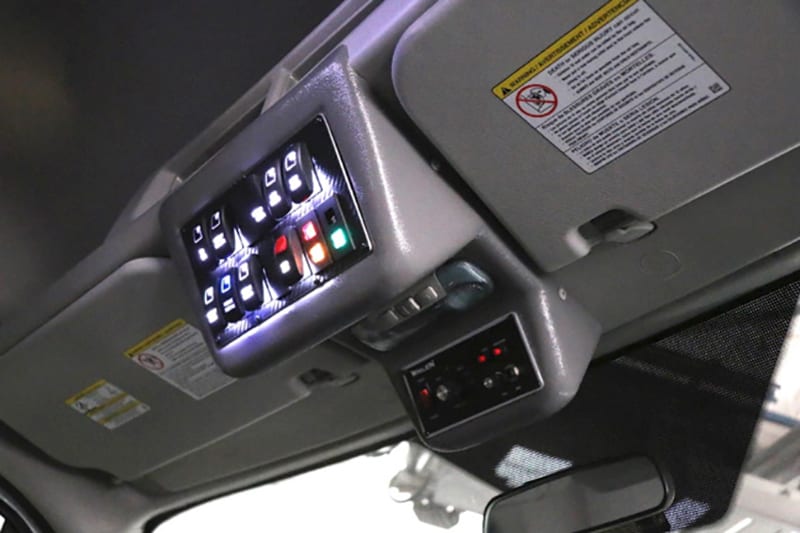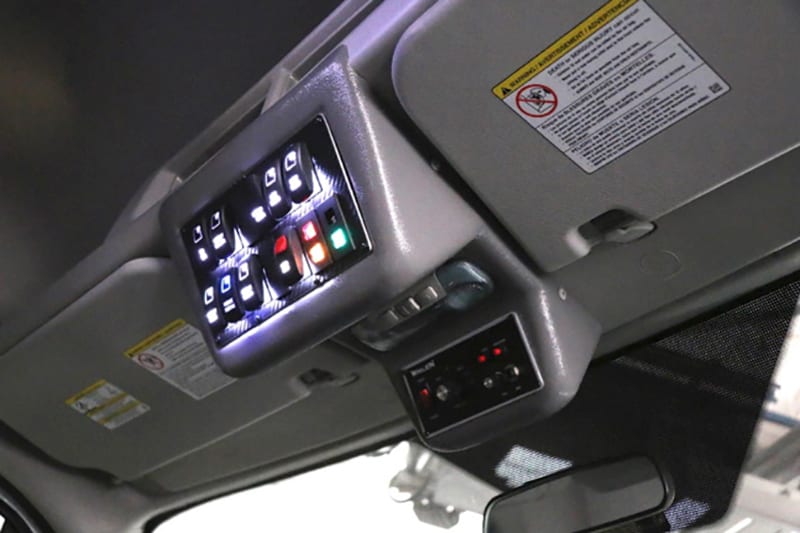 Overhead Switch Console
Leader has designed the cab headliner in order to move the switches and siren overhead. Making it easier for the driver to remain focused on the road without having to look down to locate the appropriate switch. This frees up more space in the dash area for radios, laptops and MDT (mobile data terminals).
A full complement Whelen SurfaceMax LED warning and scene lights
Whelen LED aerodynamic light bar
Overhead Cab Console includes a fully programmable siren with diagnostic LED's, LED courtesy and map lights. All switches have LED indicators and LED backlighting which is virtually maintenance free
Voltage meter, center console mounted, 0 – 18 volts"
Low Voltage" Warning Device, indicator lamp if voltage drops below 11.8 volts
Center Console for radios, with w/ (2) 5 volt USB ports
LED patient compartment dome lighting and Heat/AC are controllable from both patient area and cab
64" overhead grab rail
Oxygen system, Ohio style quick release, two (2) outlets in action wall panel
Aspirator, action wall area, flush mount panel and gauge
(6) LED dome lighting in patient compartment
Action area control center with built in suction system, 110V & 12V Outlets and dual USB charging port
High Back Attendant Seat with IMMI Per4Max restraint for added safety and maneuverability
Squad bench has two (2) IMMI Per4Max restraints for added safety and maneuverability
Ducted Heat/AC provides an efficient even flow of air throughout the vehicle with six directional air vents
Additional streetside cabinet storage
Restocking timer activates streetside domes
Built in portable O2 bottle storage at the head of the squad bench
Slanted back board compartment offers durability with space saving ergonomic design
Rear access horizontal folding stretcher storage with easy slide feature that minimizes unsafe lifting
Transverse horizontal storage for oxygen and air tanks provides a safe storage design for easy and ergonomic loading
LED intersection lights rear sides
Map box with (3) polycarbonate dividers, attaches to rear of center console
Additional cabinet above the squad bench
Emergency Start System, includes (1) additional battery
100,000 CP Handheld Spotlight, black rubber, halogen, hard wired
Front Warning Light Pod with (5) warning lights, ILO Lightbar
Power inverter and battery charger – Xantrex, Freedom, HW-1000W, w/ auto transfer, (connected to electrical outlets and shoreline)
Small Bottle Oxygen Holders
Medical Air, "M' Size tank only
Additional shelf for right front equipment storage
Cargo net at the head end of the squad bench
Privacy tint on all patient compartment windows
| Chassis | Model | WB | Engine | Alternator | Batteries | Fuel |
| --- | --- | --- | --- | --- | --- | --- |
| Ford Transit MR RWD | 250 | 148 | 3.5L EcoBoost | 250 | 2 | Gas |
| Ford Transit MR AWD | 350 | 148 | 3.5L EcoBoost | 250 | 2 | Gas |
Ask the Leader Ambulance Experts
Have questions about our products or services? We'd love to hear from you.